RTaW-Sim is a timing-accurate simulator of CAN networks that enables the designer to come up quickly with the best design and configuration choices, and assess the performances and reliability of a system.
Leading OEMs rely on RTaW-Sim to design and validate their CAN2.0A, CAN2.0B, ARINC825 and CAN FD networks – why don't give it a try?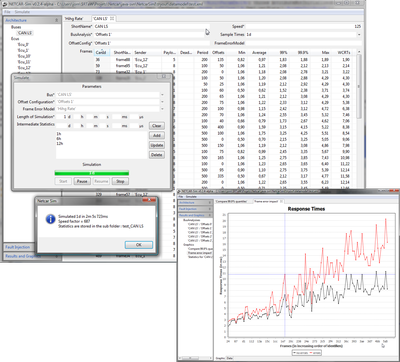 Predict network performance with RTaW-Sim – here an example where the bottom-right graphic shows the maximum transmission delays for the frames exchanged on a CAN bus with and without transmission errors.
How RTaW-Sim will help you work faster and better?
Support your design choices by evidence — RTaW-Sim provides a comprehensive and precise performance evaluation of CAN networks, and enables to investigate scenarios and compare the impact of different design and configuration alternatives. In particular, RTaW-Sim helps you select the right communication protocols, with the right communication controllers, and configure them.
Cost-optimize your networks — reduce the number of buses and defer the introduction of new technologies, reach the highest possible bus loads while staying on the safe side! Bus loads higher than 65% are generally feasible with typical real-time constraints (5ms and above).
Design for the future — with RTaW-Sim, you know in advance the extent to which your networks will be able to grow in future evolutions of a system, and you can pinpoint performance bottlenecks.
The timing predictability you need — both simulation, possibly along with fault-injection, for statistical guarantees and schedulability analysis for deterministic guarantees in the worst-case are available in RTaW-Sim – RTaW-Sim fulfils all the verification needs you may have.
Save your time and meet project deadlines — RTaW-Sim allows you to create templates of performance evaluation studies that can be re-used for each new project, and let you run them in batch. Besides, RTaW-Sim is extremely fast – for instance, the total lifetime time of a vehicle is simulated in just a couple of hours.
Benefits from years of know-how and experience in mission-critical systems — RTaW-Sim builds on 20 years of experience in CAN, and it has been chosen since 2009 by leading car manufacturers for designing the CAN networks of their series cars, as well as by leading OEMs and consulting companies in the aerospace domain – see the companies that trust us and the technical papers co-authored with our partners. Besides, RTaW-Sim is used in research and education worldwide.
Best value for money — RTaW-Sim is several times less expensive than competitors' solutions, and we offer company-wide license and free fully functional evaluation version of the paying editions – but don't take our word for it, ask for a quote and simply compare!
Which version of RTaW-Sim is the right for you? Compare editions


The professional RTaW-Sim edition is available for the aerospace and automotive domain with industry-specific features and support solutions – contact the product manager for a free fully functional evaluation version

You don't need a professional edition of RTaW-Sim? or you'd like simply to try it out by yourself?
RTaW-Sim/Starter edition is free for all uses
Download now RTaW-Sim/Starter for Windows or Linux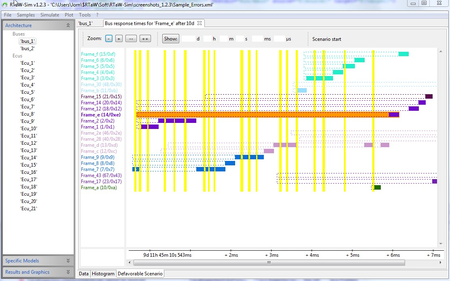 Gantt diagrams are a powerful tool to analyze specific situations occurring at run-time, for instance it helps to understand the conditions leading to degraded performance.
Key Features – professional edition
Simulate CAN buses – CAN2.0A, CAN2.0B, ARINC825 and CAN FD – interconnected by gateways,
Can be coupled with RTaW-Pegase to analyze heterogeneous communication architectures made up of CAN, switched Ethernet, AFDX and ARINC429 buses,
New: Higher-level communication layers, run-time environments and applications can be programmed in the CPAL language. This allows the simulation of complete embedded systems,
Comprehensive statistics for bus loads, frame transmission delays and waiting queue length,
Rich graphical edition and visualization environment with communication architecture editor, distribution plots and Gantt diagrams,
All timing-relevant characteristics of the communication stacks and communication controllers can be defined by the user: number of buffers in transmission, waiting queues policy, communication task period, ECU clock drifts, etc
Support fault injection with user-defined models (ex: transmission errors),
Support multiple message transmission patterns: periodic, aperiodic, segmented messages, code upload, diagnostic requests, etc
Gateway support: forwarding of frames from one network to another,
Provide worst-case performance evaluation (schedulability analysis) through the NETCAR-Analyzer plugin,
Predict network performance using real transmission patterns, as monitored on the buses, when coupled with RTaW-TraceInspector,
Easy import and export of network configurations and simulation results through CSV, XML files and the common formats used in the industry,
Import configurations generated with NETCARBENCH: the GPL benchmark generator for CAN-based communication systems,
Extremely fast: typically, a speedup of 200 compared to the simulated functioning time can be achieved on complex automotive multi-CAN architectures, can be used to derive quantiles of the frame latencies up to 1 – 10-6,
Can be extended with your own configuration and verification algorithms through a plug-in infrastructure,
Runs on all 32 or 64 bit platforms supporting Java – no dongle or license server protection,
Professional support and custom extensions available.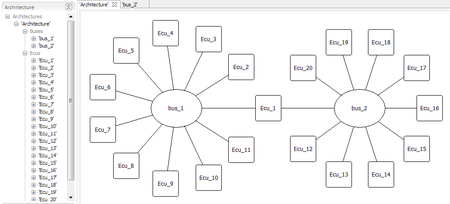 Communication architectures can be visualized and edited graphically in RTaW-Sim. Here, a two-buses CAN-based architecture with a gateway to interconnect the two buses.
Interested in a free evaluation of the professional edition of RTaW-Sim for the automotive or aerospace domain? Or would you like a remote demo, possibly using your own configurations? Contact the product manager
Additional ressources

Download RTaW-Sim brochure
Did we answer your questions?
If not, please let us know and the product manager will answer you.