NETCAR-Analyzer is a timing verification tool for CAN networks based on worst-case schedulability analysis. It enables the designer of CAN networks to optimize the bandwidth usage and make sure that the constraints on communication latencies are met.
How NETCAR-Analyzer will help you design safe and optimized CAN networks?
Remove the guesswork — NETCAR-Analyzer calculates maximum bus loads, communication latencies (i.e. frame response times) and buffers utilization which makes it possible to guarantee network performances under worst-case conditions,
Make the best possible use of the bandwidth available — NETCAR-Analyzer implements a set of proprietary configuration algorithms that typically enable doubling the bus load, which may defer the need for additional CAN networks or other networking technologies.
Benefits from years of research and experience in timing verification — NETCAR-Analyzer builds on 20 years of CAN timing verification experience, see the companies that trust us and the technical papers co-authored with our partners.
Results you can trust —NETCAR-Analyzer is no black-box software you don't know how it works until it is too late – its algorithms are described in a formal manner and proved in refereed scientific publications.
Best value for money — NETCAR-Analyzer is several times less expensive than competitors' solutions and we offer company-wide license – but don't take our word for it, contact the product manager for a free fully functional evaluation version and simply compare!
NETCAR-Analyzer is now exclusively distributed as a plugin to RTaW-Pegase, the all-in-one design and configuration tool for CAN networks with both worst-case timing verification and simulation.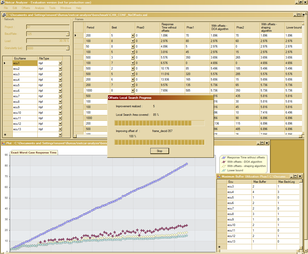 Screenshot of NETCAR-Analyzer during an optimization run. The left-hand graphic shows the CAN frame response times (by decreasing priority) for different offset configurations. The spreadsheet in the background contains the set of frames, the different configurations tested, the corresponding worst-case transmission latencies and certain characteristics of the communication stack, such as the policy of the frame waiting queue (e.g., FIFO or prioritized).
Key Features
Worst-case latencies on CAN for frames with and without offsets,
Proven near-optimal offsets assignment algorithms with user-defined performance criteria: e.g. optimize the worst-case response times for a specific subset of tasks, for instance, the 10 lowest priority frames,
Exhibit the situations leading to the worst-case: results can be visualized and checked by simulation with RTaW-Pegase.
Enable dimensioning transmission/reception buffers at the device driver and communication controller level,
Handle both FIFO and prioritized waiting queues at the device driver level,
Fast multi-core implementation: typically, an exact response time computation requires less than 30 seconds for 100 frames on a dual-core system,
Gateway support: forwarding of signals/frames from one network to another,
Import configurations generated by NETCARBENCH: the GPL benchmark generator for CAN-based communication systems,
Predict network performance using real traffic when coupled with RTaW-TraceInspector,
Used in the automotive industry to conceive new vehicles and used as an academic research tool since 2006,
Professional support and custom extensions available. Software developers SDK are available for licensing in 3rd party software products.
NETCAR-Analyzer is unique thanks to the speed of its algorithms, making it possible for larger design space explorations to be undertaken and thus giving better solutions. But don't take our word for it – contact the product manager for a free fully functional evaluation version.


Want more information about how NETCAR-Analyzer is used in the design of automotive networks? Consult this white paper co-authored with PSA and the slides below.
Did we answer your questions?
If not, please let us know and the product manager will answer you.