RTaW-ECU is task scheduling configuration tool for monocore and multicore platforms which is aimed at reducing the peaks of CPU load while meeting the configuration and timing constraints
Key Benefits
RTaW-ECU constructs the schedule of the tasks so that the workload is spread as uniformly as possible over time. This way it is possible to use less powerful CPUs and to execute additional tasks on the same hardware platform. Another benefit is to offer a better resilience against wrong estimations of the task execution times or activation patterns.
RTaW-ECU is able to construct the schedule for several hundred of software modules in a few seconds and the quality of the resulting configuration can be visually checked and compared against simple strategies.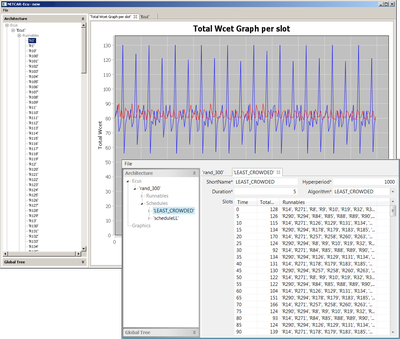 Screenshot of RTaW-ECU: the graphic shows how the CPU workload is spread over time with different configuration algorithms. The bottom-right window shows the tasks scheduled during each time interval.
Interested in the algorithms underlying RTaW-ECU and a case-study? Consult this paper and this second paper – Download RTaW-ECU brochure
Key Features
Handle monocore and multicore CPUs,
One or several sequencer tasks per core,
No black-box software: all algorithms published in peer-reviewed academic papers,
Configuration algorithms provide performance guarantees in terms of minimum CPU load that can be achieved,
Can generate C code from the configuration file according to a user-defined template,
Professional support and custom extensions available.
Interested in a free evaluation of RTaW-ECU? Or would you like a remote demo, possibly using your own configurations? Contact the product manager
Demo screencast of RTaW-ECU V1.0, current version has been extended to handle multicore ECUs
Did we answer your questions?
If not, please let us know and the product manager will answer you.